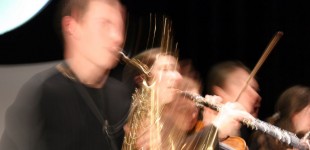 A workshop for musicians interested in learning improvisation and collective creation.
« Zemlia, The Earth in Russian, is a "silent movie in concert" project, a music irrigated by improvisation and then carefully organized, recomposed and formalized. A score which, through this combination of violin, electric guitar and keyboards, given singular depth by intricate treatments and electronic effects, and then amplified, gives resonance to the images. » David Sanson
Les éditions Symétrie publient en 2010 l'ouvrage d'Alain Savouret "Introduction à un solfège de l'audible", fruit de son expérience accumulée en tant qu'enseignant dans la classe d'Improvisation Générative du Conservatoire de Paris. Voici le texte que j'avais rédigé à la demande d'Alain, publié à titre d'article complémentaire, parmi d'autres témoignages d'anciens de la classe.